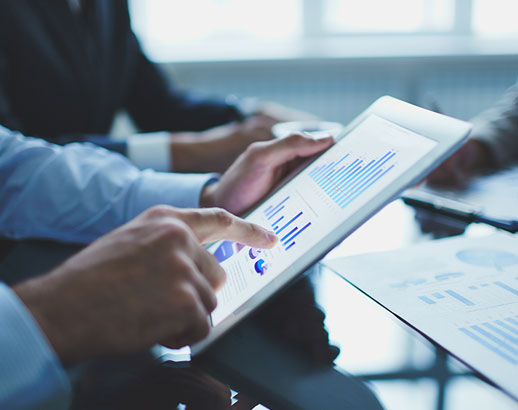 Data is the fuel that drives your system. The data to operate your system is vital to your operations. Accurate prices are essential to maintain your profitability. Accurate Electronic Catalog and Interchange data provide the information needed to quickly find what your customers need and get them back on the road. AutoPoint® provides a variety of tools needed to ensure that your system has the fuel needed to operate quickly and efficiently.
Price Updating in SECONDS!
Maintaining your prices manually could take hours but with our AutoStock updates, you can update prices on thousands of part numbers in seconds. All updates are provided electronically so there are no cumbersome cd's or tapes to load.
There are a number of ways to calculate your resale prices. You can specify gross-profit/markup percentages by company, or drill down to the product line, sub-line, and category level to setup your resale price calculations. In addition, cost range calculations can be used to set a higher margin for low price items and lower margin for higher price items. Once these price schemes are set, they are automatically applied for future updates and anytime new parts are added to the system.
Multiple Price Files created from your suppliers
AutoPoint® supports multiple Price files from your suppliers. If you have a supplier who provides their prices in a spreadsheet, these can easily be imported into your system to update your prices. If your supplier provides promotional pricing, quantity break pricing, or flyer pricing, these can be a part of your price updates.
Quick and Easy Part Number Updating
In addition to prices, AutoStock also provides quick and easy methods to update other part number information such as Item Descriptions, Standard Package/Billing Units, Pop Codes, Supercede/Replaced-by data, UPC Codes and much more. Eliminating the need to manually maintain and keep track of this information saves time and provides more efficient operation of your business.
Line Changeovers
Line changeovers are part of the business and can be a hassle to deal with on some systems. The AutoXref feature sets up the new items in your system and transfer the on-hand, order points and demand history from the old line to the new items.
Electronic Catalog/ InterChange
Easily access Interchange, Buyers' Guide, and Related Items. The catalog data is provided by WHI Solutions and used by most warehouses in the automotive parts industry, making it easier for our customers to adapt.