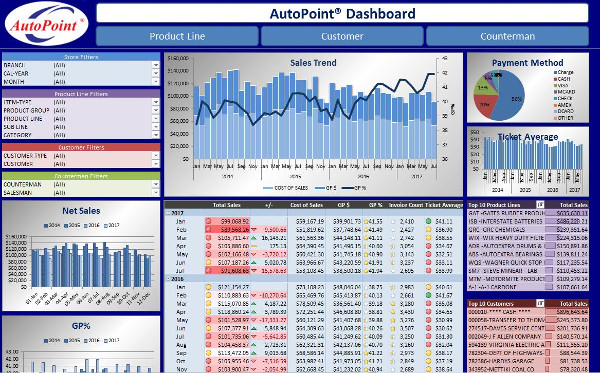 Real Time On-Hand, Demand History, and Accounts Receivables
In the AutoPoint® system, all information is updated immediately. Once a ticket is finalized your Demand History and Accounts Receivable are immediately updated. No waiting until the next day to view results.
AutoPoint® Dashboard - Business Intelligence
A comprehensive view of Sales History analyzing your business Sales and Profitability by Year, Branch, Salesman, Customer, Product Line, Sub-Line, Category, and even down to the Part Number Level.
Unlimited storage for Part Numbers, Customers, and History
AutoPoint® customers find having a system with no limitations on Part Numbers, Customers, and History is most beneficial. They have access to all Part History from Point Of Sale at the touch of a button. Viewing previous Customer purchases by Customer, Product Line, Part Number, or Date Range allows the counter to function efficiently and accurately without ever leaving the counter. AutoPoint® offers years of detail history by Part, Customer, Product Line, and much more.
Reporting: End of Day Reports, Management Reports that analyze every aspect of your business
End of Day can be run on demand or set to be run automatically. In either case, reports are provided to analyze your business on a daily, month-to-date, and year-to-date basis. Hundreds of additional Management reports can also be queued to run on demand or automatically. Reports can be displayed to the screen, printed to paper, or emailed.