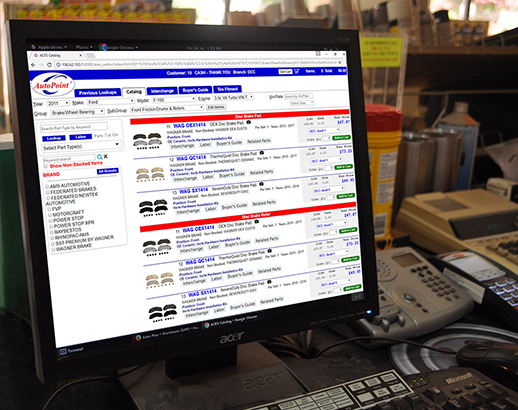 Industry standard ACES Catalog data with over 1200 lines continuously updated
Customers use an integrated, industry standard ACES catalog product that features over 1200 Major and Private Label product lines. The catalog data is provided by WHI Solutions and used by most warehouses in the automotive parts industry, making it easier for our customers to adapt. Easily access Interchange, Buyers' Guide, and Related Items. Vehicles can be looked up by License Number and VIN Number as well as Year-Make-Model-Engine.
Integrated Catalog, Interchange, Warehouse Inquiry
See what inventory is readily available by checking inventory from your other branches or supplier (if available) while in Point Of Sale and Cataloging. This feature allows you to obtain inventory from all your sources while never leaving Point Of Sale.
UPC Scanning
Using POS Bar Code Scanners makes selling any item easier, by scanning the UPC Code on those hard to identify items such as chemicals, makes the counter run much more efficiently. No more hunting around for the part number. Our Item Find feature allows you to search by entering part of a number or description, or by line code.
Kit Processing
Kit Processing allows you to sell a single part number while relieving inventory of multiple items required to make up the kit. While in Point Of Sale you can sell kits from inventory previously created or build kits on the fly.
Electronic Signature Capture and Document Storage
You can capture a signature at the Counter or on Delivered merchandise. Invoices are stored on the system with signatures that can be easily recalled and reprinted anytime with a signature plus emailed.
aOffice and Document Storage
By storing invoices and statements in the aOffice product that we offer, your customers can access their own invoices and statements by month and year.
No more sending copies of invoices with statements or storing boxes of old invoices!